Operation Mars
From WarWiki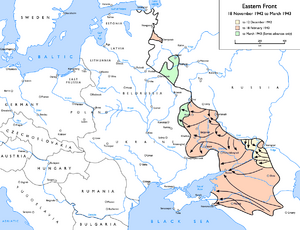 The Second Rzhev-Sychevka Offensive (codenamed Operation Mars) was a strategic offensive launched by Soviet forces against German forces during World War II. It took place between 25 November-December, 1942 in a salient in the vicinity of Moscow. The offensive was one in a series of particularly bloody and mostly futile engagements collectively known as the Battles of Rzhev, which occurred near Rzhev, Sychevka and Vyazma between January 1942 and March 1943. The Battles became known as the "Rzhev meat grinder" ("Ржевская мясорубка") for their huge losses, particularly on the Soviet side.
The offensive was a joint operation of the Soviet Western Front and Kalinin Front coordinated by Georgy Zhukov. Many details of the offensive are virtually unknown.
However, the American historian David Glantz considers that the offensive was more important in STAVKA planning than the near-simultaneous Operation Uranus, and its minimisation into a mere holding attack supporting the Stalingrad operation was a propagandistic whitewash. He claims that the plan was to develop it into a breakout for Army Group Center's deep rear.
Casualties
[
edit
]
Soviet: 70,400 men and 1336 tanks
German: 40,000 men
References
[
edit
]
Glantz, David M. Zhukov's Greatest Defeat: The Red Army's Epic Disaster in Operation Mars, 1942 (1999). ISBN 0-7006-0944-X.
External links
[
edit
]